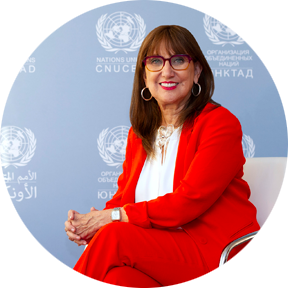 This UNCTAD SDGSustainable Development Goal Pulse comes at a crucial moment in the history of both multilateralism and trade and development. Since 2020, the world has been in a constant state of cascading crises that overlap and compound each other. Climate change, the COVID-19COVID-19 is an infectious disease caused by the strain of coronavirus SARS-CoV-2 discovered in December 2019. Coronaviruses are a large family of viruses which may cause illness in animals or humans. In humans, several coronaviruses are known to cause respiratory infections ranging from the common cold to more severe diseases such as Middle East Respiratory Syndrome (MERS) and Severe Acute Respiratory Syndrome (SARS). The most recently discovered coronavirus causes coronavirus disease COVID-19 -—
– ‒
- –
—--—
– ‒
- –
—--—
– ‒
- –
—--—
– ‒
- –
—-. pandemicCommonly described by the WHO as 'the worldwide spread of a new disease', no strict definition is provided. In 2009, they set out the basic requirements for a pandemic: • New virus emerges in humans
• Minimal or no population immunity
• Causes serious illness; high morbidity/mortality
• Spreads easily from person to person
• Global outbreak of disease.
The US Centre for Disease Control uses a similar approach, but with a reduced set of criteria. It is very difficult to gauge whether the spread of a disease should be termed an outbreak, epidemic or pandemic. In other words, when to declare a pandemic isn't a black and white decision -—
– ‒
- –
—--—
– ‒
- –
—--—
– ‒
- –
—--—
– ‒
- –
—-., and now the war in Ukraine, have as a result impacted developing countries' ability to meet their sustainable development goals. This SDG Pulse traces these complex disruptions in the world's progress towards the 2030 Agenda through data-driven analysis relying on SDG indicators and other official statistics updated by our new stand-alone UNCTAD Statistics Unit.
The fourth edition of SDG Pulse reveals uneven progress towards the 2030 Agenda and for too many countries a deterioration of the progress made under the compounding effects of these crises. Despite the rise of regional trade agreements, the lingering disruptions in global value chains, trade sanctions, and shrinking export diversification have dented the ability of global trade to foster sustainable and inclusive growth in the most vulnerable countries, with increasing concerns over food security. The indicators show bleaker conditions for financing for development with rising inequalities between and within countries and many SDGsSustainable Development Goal falling increasingly out of reach. Furthermore, the strong rebound of CO2Carbon dioxide (CO2) is a colourless, odourless and non-poisonous gas formed by combustion of carbon and in the respiration of living organisms -—
– ‒
- –
—--—
– ‒
- –
—--—
– ‒
- –
—--—
– ‒
- –
—-. emissions in 2021 underlines the need to transform policies that still allow the overuse of natural resources, rising pollution, and waste.
Together with other UN and external agencies, we measure progress towards the SDGs as set out on the 2030 Agenda. In 2017, the UN Statistical Commission set up a Global SDG Indicator Framework to ensure transparency and accountability of the Agenda, as endorsed by the General Assembly (A/RES/71/313). UNCTAD is a custodian agency and partner for nine SDG indicators related to trade, tariffsTariffs "are customs duties on merchandise imports, levied either on an ad valorem basis (percentage of value) or on a specific basis (e.g. $7 per 100 kg). Tariffs can be used to create a price advantage for similar locally produced goods and for raising government revenues. Trade remedy measures and taxes are not considered to be tariffs." -—
– ‒
- –
—--—
– ‒
- –
—--—
– ‒
- –
—--—
– ‒
- –
—-, development finance, debt, investment, illicit finance, and enterprise sustainability. This entails a global responsibility for UNCTAD to develop concepts and methods to track progress with these indicators, and to support member States in strengthening their capacity to measure and analyse progress to effectively target policy efforts towards meeting the SDGs.
UNCTAD's work to track and curb illicit financial flows, as a custodian of SDG indicator 16.4.1 jointly with UNODCUnited Nations Office on Drugs and Crime, is critical for developing countries to stem the drain of resources that are painfully needed for essential services and sustainable development. In March 2022, the UN Statistical Commission also adopted a new SDG indicator 17.3.1 to measure development support. With OECDOrganization for Economic Cooperation and Development as a co-custodian, UNCTAD was called upon to support countries of the South in measuring financial resources, including a new voluntary framework for the measurement of South-South cooperation that will serve as a data source for the indicator.
This report not only presents statistical updates and data-driven analysis for SDG indicators relevant for trade, development, investment, finance, and technology, but also a range of other official statistics that provide broader context and more nuance to these complex topics. The report also presents case studies of UNCTAD's capacity development in support of the 2030 Agenda – UNCTAD in Action outlines our activities and successes with hard numbers.
Finally, every year this report highlights a thematic issue of immediate relevance. This year's theme addresses inclusive growth with a new UNCTAD Inclusive Growth Index that puts people and the planet at the centre of attention. This In-Focus analyses countries' ability to achieve inclusive growth with particular attention paid to gender equality and environmental sustainability. It is my hope that this report will help to guide more holistic policies that pursue wellbeing for everyone today and in the future.
Rebeca Grynspan
Secretary-General of UNCTAD
We are sorry that this post was not useful for you!
Let us improve this post!
Tell us how we can improve this post?